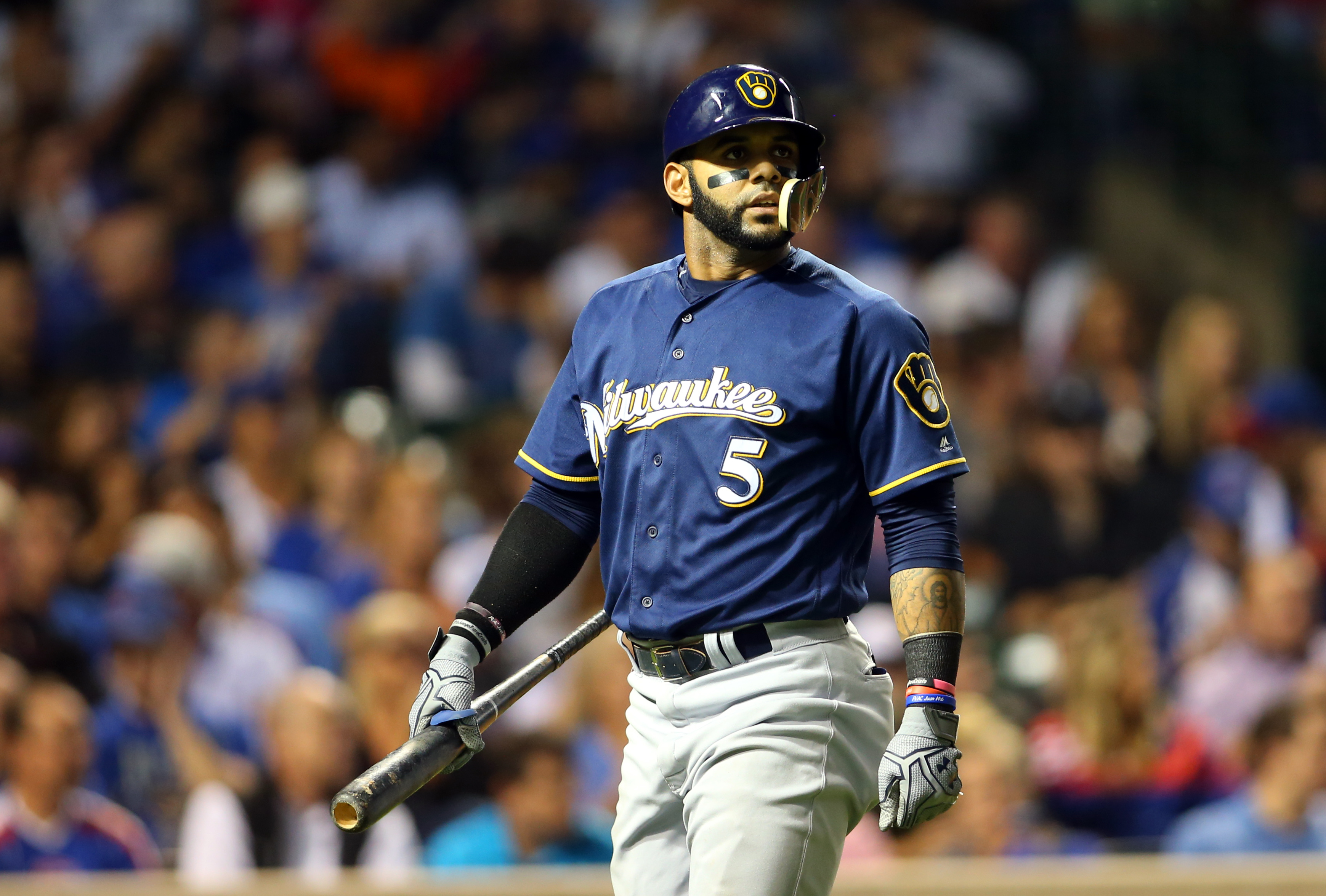 While the Milwaukee Brewers are 6th in MLB in runs scored, they likely have a couple more wins if their leadoff man were getting on base at even a mediocre pace.
There were many people who questioned if Jonathan Villar's terrific 2016 was simply a one-year wonder type of deal. The Milwaukee Brewers were most happy with his .369 OBP and .826 OPS, on top of his 60 extra-base hits and MLB-best 62 stolen bases.
His start to 2017 has been far more unkind. Through 16 games, Villar has a .138 average, .200 OBP and a league-leading 26 strikeouts. Those strikeouts aren't anything new – he had 174 last season – but Villar is on pace for around 250 punch outs right now.
One of the problems with Villar's struggles is that he isn't on base for the red-hot Eric Thames. Six of Thames' 7 home runs have been solo shots with only 15 of his 58 plate appearances coming with someone on base.
Simple contact has been the biggest issue for Villar, especially on pitches in the strike zone. Villar currently has the 9th-worst contact percentage when swinging at strikes (75.6%). This consistent failure is most noticeable in situations like the 6th inning at Wrigley on Wednesday.
Milwaukee loaded the bases with just one out against Chicago Cubs' hurler Mike Montgomery. The infield was back and Villar is tough to double-up, so any contact is likely to score a run and give the Brewers a 5-1 lead.
Instead, after a 4-pitch walk of Jesus Aguilar, Villar whiffed on a first-pitch curve, went to 1-2 in the count, and then swung and missed to give Montgomery a chance to escape. That …
Read Original Post at
http://dairylandexpress.com/2017/04/20/milwaukee-brewers-ways-help-jonathan-villar-hit/

Sports Media 101 searches and spiders for news it aggregates from across the web about your favorite sport or sports team. This article is originally posted at another site not affiliated with Sports Media 101. The portion of the article posted here is to provide a sample of the content available at the linked site. Please click the link to read the full article. Sports Media 101 does not claim any ownership to the content and all rights are retained by the original copyright owner.
Tags:
Milwaukee Brewers